Reappointment of Professor David Cameron as Dean, Faculty of Arts & Science (PDAD&C #13)
| | |
| --- | --- |
| From: | Cheryl Regehr, Vice-President & Provost |
| Date: | October 30, 2015 |
| Re: | Reappointment of Professor David Cameron as Dean, Faculty of Arts & Science (PDAD&C #13) |
---
I am delighted to announce that the Agenda Committee of Academic Board has approved the appointment of Professor David Cameron to continue as Dean of the Faculty of Arts & Science until June 30, 2019.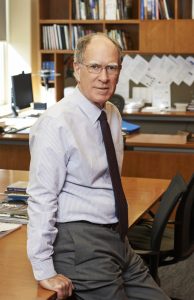 The Advisory Committee received feedback and met with faculty, staff, and students of the Faculty of Arts & Science and the broader University community. The comments and information shared with the Committee were overwhelmingly supportive of Professor Cameron's reappointment for another term.
The strong support of Professor Cameron reflects his steadfast leadership as Interim Dean and Dean of the Faculty of Arts and Science over the past two and a half years. He brings a wealth of experience to the position, and is well-regarded as being a thoughtful and consultative dean. Dean Cameron continues to focus on key priorities of the Faculty, such as faculty renewal, financial sustainability, graduate student support, and internationalization.
Dean Cameron has been a Professor of Political Science at the University of Toronto since 1985. His research interests include Canadian government and politics, particularly questions of federalism, Quebec nationalism, French-English relations, constitutional renewal and national unity. He has written and edited numerous books, including: Nationalism, Self-Determination and the Quebec Question; The Social Thought of Rousseau and Burke: A Comparative Study; and, The Referendum Papers: Essays on Secession and National Unity. Professor Cameron is a member of the Royal Society of Canada, and a recipient of the Governor General's International Award for Canadian Studies, the University of Toronto's Ludwik and Estelle Jus Human Rights Prize, the Carolyn Tuohy Impact on Public Policy Award, and the Adrienne Clarkson Public Service Laureateship.
Please join me in thanking the Advisory Committee for their work and congratulating Professor Cameron on his reappointment.